A Los Angeles CBS meteorologist was hospitalized after fainting on air Saturday in a terrifying moment that has gone viral on social media.
Weatherwoman Alissa Carlson Schwartz stunned viewers when she collapsed on live TV after her KCAL co-anchors cut to her for the weather report on rain in L.A. this week during the 7:00 a.m. hour. 
Schwartz, who appeared visibly pale, leaned forward and her eyes could be seen rolling to the back of her head. She seemingly tried to catch herself from falling but her head slumped down on her desk before she lost consciousness and fell to the ground.
FOX NEWS METEOROLOGIST ADAM KLOTZ ATTACKED ON NYC SUBWAY AFTER STOPPING TEENS FROM ASSAULTING OLDER MAN
Schwartz's co-anchors, Nichelle Medina and Rachel Kim dd not appear to be immediately aware of what transpired, perhaps initially thinking Schwartz was reacting to the upcoming weather forecast. They soon realized something was very wrong and told viewers, "We're going to take a quick break right now." The morning show did not return to a live segment, TMZ reported.
MILLENNIALS ARE RACKING UP MORE CHRONIC HEALTH CONDITIONS COMPARED TO OTHER GENERATIONS: STUDY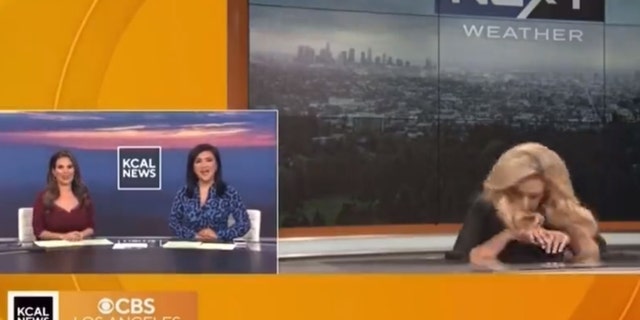 CBS Los Angeles Vice President and News Director Mike Dello Stritto told the outlet that Schwartz's co-workers rushed to call 911 and that she was being treated at a local hospital, but did not offer further details on what caused her to collapse.
Schwartz posted on Facebook Sunday, "Thanks for all the kind wishes as I recover from a head injury. I am out of the hospital and doing ok. Lots of sleeping and even some pizza – TY." It is unclear if the collapse was caused by a head injury or whether she sustained the head injury as a result of her fall.
"I appreciate all the prayers as I recover," she wrote. "More to come…"
TMZ reported that Schwartz experienced another medical incident in 2014 while working at another network when she reportedly vomited live on set during a weather report and was later diagnosed with a leaky heart valve.
CLICK HERE TO GET THE FOX NEWS APP
In her Facebook post on Sunday, Schwartz said the latest collapse was unrelated to her heart.
"Thankfully, it's not my heart this time," she wrote, adding that she will be doing "lots of sleeping" as she takes time to recover.